Freitag, 11. August, sehr früh morgens
Ein paar der Arbeiter, die wir schon etwas kennen gelernt haben, begrüßen uns: "Dobroie Utro" (-"Guten Morgen"). Nach einem kurzen Blick in mein Notizheft wissen wir zu antworten: "Sdrazd Vudje" (-"Moin").
Wir beginnen zu arbeiten. Ich suche mir wieder einem Platz am Erdhügel, Slava und Vitali verschwinden in ihrer Grube und reden leise auf Russisch. Sie kommen beide aus der Ukraine und Stolniceni, das Dorf in dem wir leben und arbeiten, ist ebenfalls ukrainisch. Sie scheinen sich recht gut mit den Arbeitern zu verstehen, die beiden lachen, als einer der Arbeiter etwas herüber ruft.
Werkzeug wird verteilt, noch gibt es genug Eimer (es werden aber auf geheimnisvolle Weise jeden Tag weniger, so dass alle paar Tage neue gekauft werden müssen). Kai erklärt, dass alte Schaufeln und Spaten besser sind als neue. Selbst wenn man die neuen ordentlich schärfe, würden sie nicht so gut gleiten wie alte. Dann unterbricht Mariana ihn, er soll ihr helfen, die Fixpunkte auszumessen, um das "Tachy", das Tachymeter zu kalibrieren.
Die Arbeiter fangen an zu schaufeln und Erde wegzufahren. Wer gerade nicht schaufelt macht Witze, raucht, gähnt. Wie immer scheppert Musik aus einem ihrer Handys. Wie immer ist es die gleiche Playlist. Noch ist es nicht allzu heiß, doch die angenehme Morgenfrische lässt langsam nach.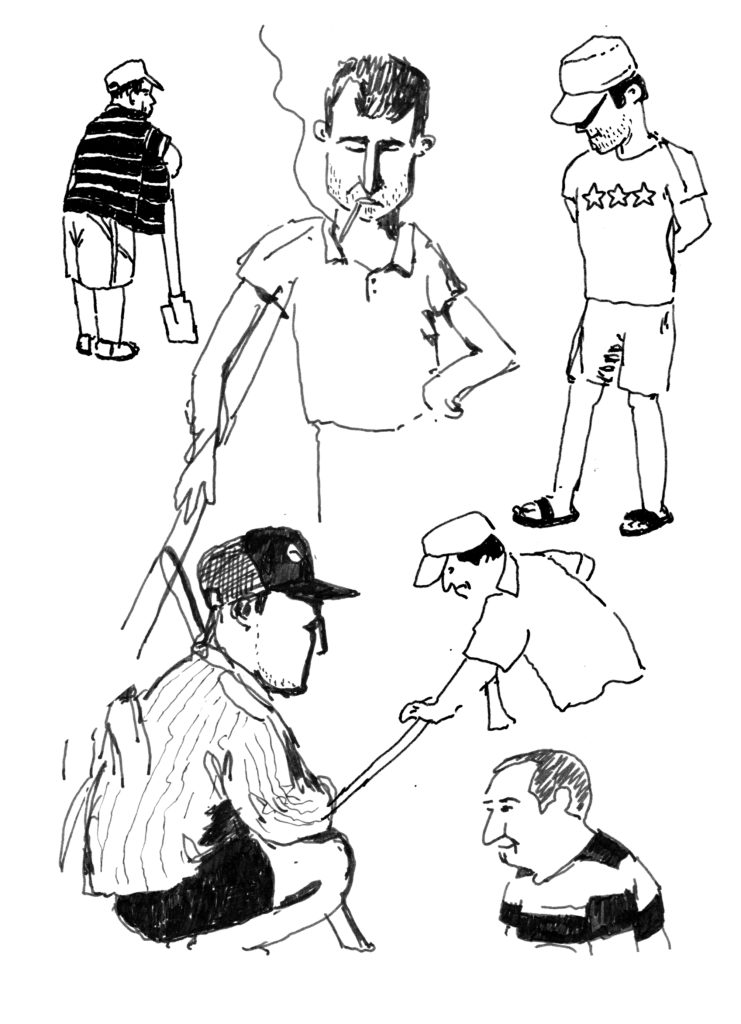 Jarik grinst zu mir herüber. Er ist einer von den Jungs, die hier mit arbeiten. Wir sind uns gestern Abend am "Magazin Mixed" begegnet. Erst kamen nur ein paar Mädchen mit lauter Popmusik, dann kamen die Jungs mit ihren Motorrädern über die nächtlichen Dorfstraßen (naja, "Straßen") angerast.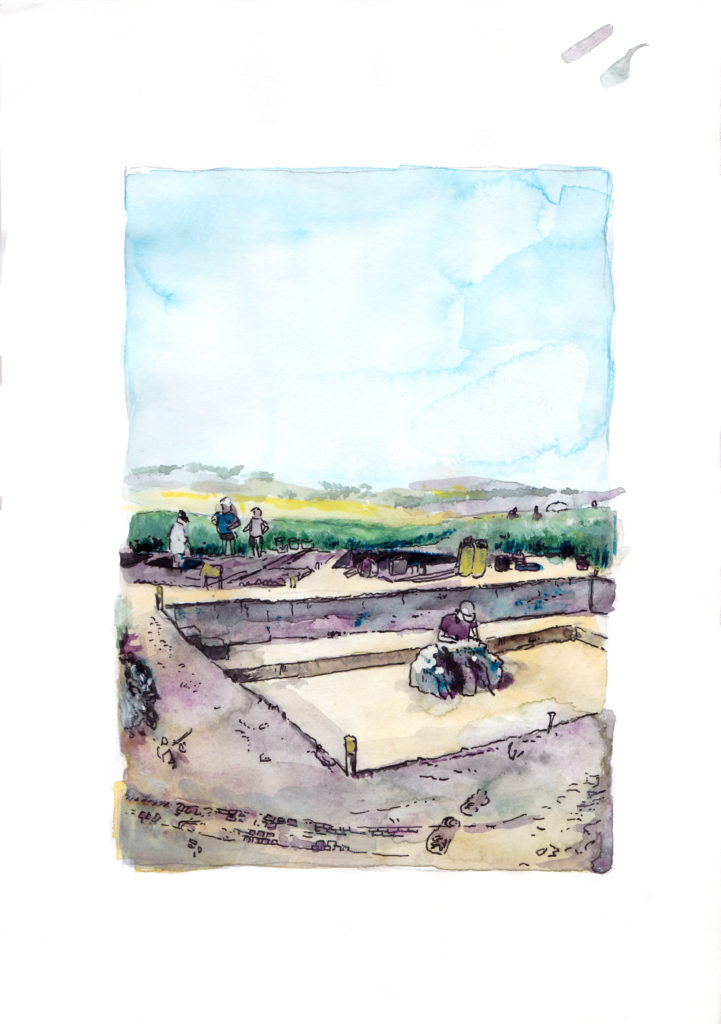 Jetzt kommt er kurz zum Erdhaufen, wo ich sitze und schaut sich das Aquarellbild und die Zeichnungen von den Arbeitern an. Er spricht kein Englisch, ich kein Russisch. Mit einer App können wir aber mühsam Wort für Wort übersetzen. Ich erfahre, dass sein Motorrad 90 fährt (inzwischen bin ich da sogar mal mitgefahren und kann bestätigen, dass es sehr schnell ist) und noch ein paar andere Dinge.
Es ist 10 Uhr, Zeit für Frühstück. Zeit für "Mein Katalonien", mittelokayen Kaffe und Wassermelone.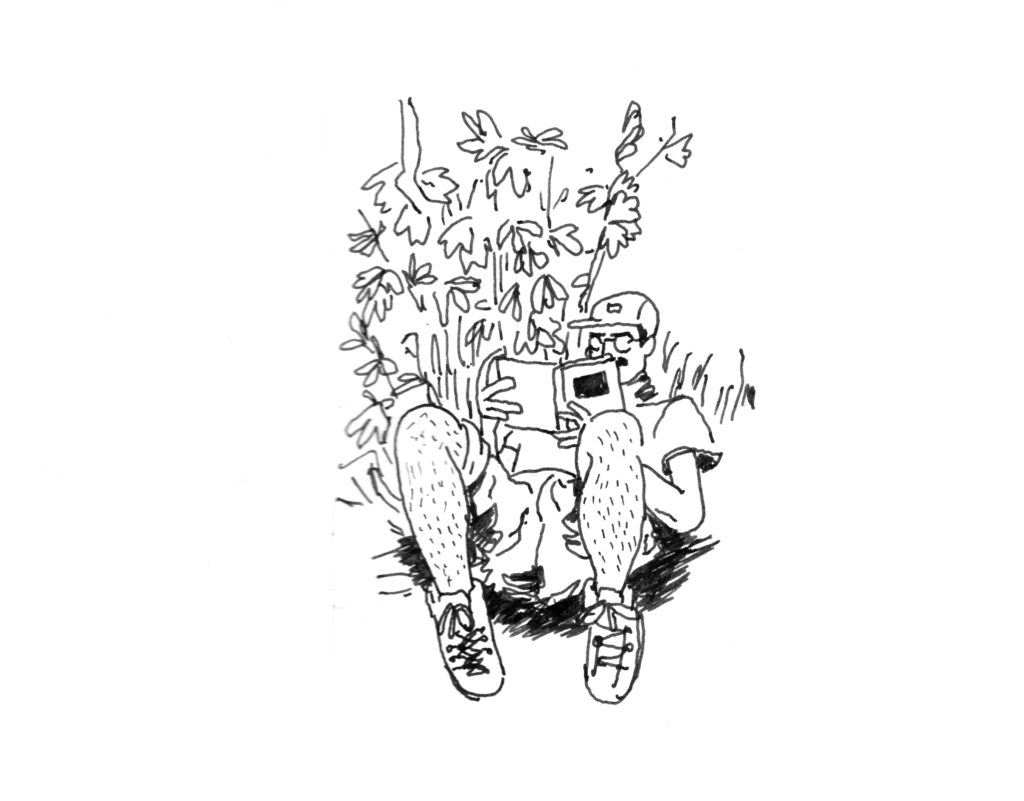 Friday, 11th August, very early
Some of the workers greet us: "Dobroie Utro". After a peek into my notes we know an answer: "Sdrazd Vudje".
We commence our different works. I find a spot on the dirt pile, Slava and Vitali enter their pit and start talking silently in Russian. They're both from Ukraine and Stolniceni, the village we live and work in is ukranian as well. So they seem to get along pretty well. They both laugh after one of the works yells something.
Tools are being handed out. Right now there are still enough buckets but some seem to disappear misteriously over time.
Kai talks about how old shovels and spades are better than new ones. The new ones just don't glide as good, even if you sharpen them very carefully. Marina interrupts him, she wants him to help her measure the fix points to calibrate the "Tachy", the Tachymeter.
The workers start digging and removing a layer of dirt. The ones who aren't digging are cracking jokes, smoking cigarettes, yawning and strechting. As always, music is clanking from someones phone. Same playlist as everyday .
Jarik smiles at me. He's one of the three boys from the village who work at the excavation. We met yesterday at the "Magazin Mixed", the only place with free WiFi. At first there were some girls with loud music, then the boys came with their motorcycles.
Now Jarik is joining me at the dirt pile. He looks at the watercolour piece and the sketches of the workers. He neither speaks English nor German, I don't speak Russian. So we communicate by entering single words into a translation app. Amongst other information I find out, that his bike can do up to 90 kilometers per hour (in the meantime if been on it a few times and boy it is hella fast).
It's 10 am. Time for breakfast. Time for "My Katalonia", semi ok coffee and very good watermelon.